Ok, back after the weekend.
I swear, I TRIED to make a weekend post, but Chrome was doing all kinds of weird things with sizing the images and I was too lazy to find an alternative. So deal with it.
I'd say this chick is pretty badass. via
A Cup of Jo
.
I can't think of too many things I'd want permanently inked into my body, but some sweet typography might appear on the list, along with
a peacock feather
,
Snoopy & Woodstock
, or a few bars of sheet music from
Symphonic Dances from West Side Story
. I think those are all good candidates.
I'm also seriously considering this one: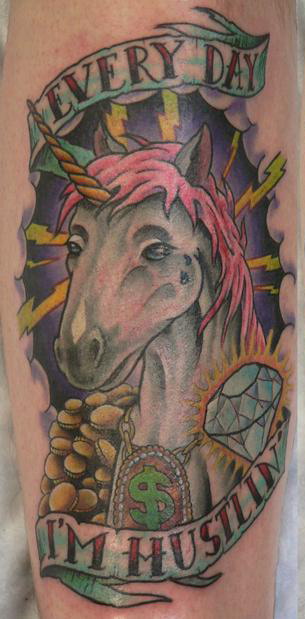 Next, this photo is a bit odd with the lighting, but I couldn't stop looking at it. via
desire to inspire.
What an interesting entryway, eh?
I would kill for this room. also via
desire to inspire
.
The leather, the lamp, the sofa, the art... *drooooool*
Now we're going to have a WTF moment. Are you ready?
OBAMA NAKED WITH UNICORNS!!!
Kinky! Ok, now that you're completely disturbed, here's some eye-candy:
Mmm, Daniel Craig... lookin' all beat-up and Bond-like. Love it.
Yes, very nice.
Ok, now for those of you who live under a rock (or anywhere outside of the Mitten), you might not know about what's been going on with the Michigan State University logo/rebranding scannnndaallll of 2010, which, by the way, was featured on
Brand New
thanks to a tip from me (and probably a hundred others). Read about it. What do you think?
Have a good one, ya'll!